CQG Trader
Speed Meets Reliability.......
Click here for a demo clip of CQG Trader
CQG Trader has the speed and reliability of CQG Integrated Client in a quote and trading platform. CQG Trader provides DOMTrader, Quote Board, and Orders & Positions view. It's the perfect execution platform for traders who don't require technical analysis tools. Many of CQG's FCM partners offer CQG Trader as their order entry and account management interface.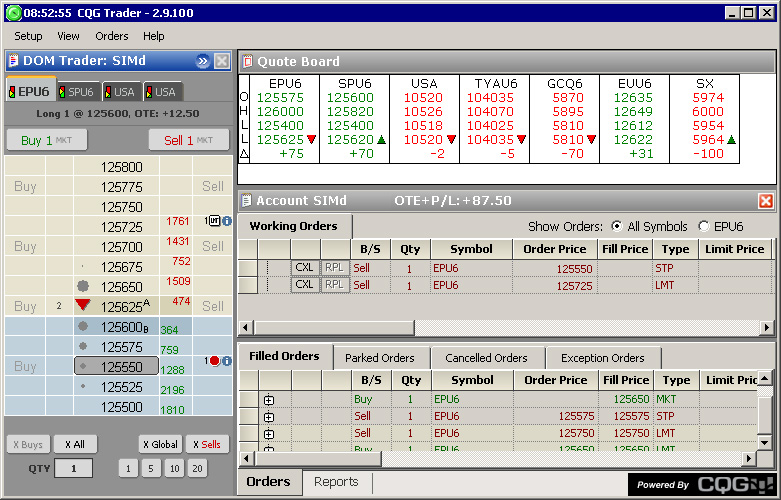 CQG's DOMTrader, a Depth-of-Market trading order execution interface, provides DOM information giving the trader transparency beyond the best bid and offer. The DOMTrader has four tabs at the top of the window for those traders trading more than just one market. Traders have order entry and cancel buttons for quick management of trades. You can customize the look of the DOMTrader with eight different color themes.
The Quote Board displays open, high, low, last and net change.
Orders & Positions view shows important account details including working orders, filled orders, account balance, open trade equity for futures, unrealized profit/loss for options on futures, collateral on deposit, and more.
For easier downloading, each portion of the CQG Trader demo offered at the top of this page is also available separately:
Introduction
DOM Trader
Trading with DOM Trader
HeadsUp Display
Order Windows
Quote Board
Screen Customization