CTS/T4
Cost: : $1.00 per round turn with a $25 minimum, capped at $500 per month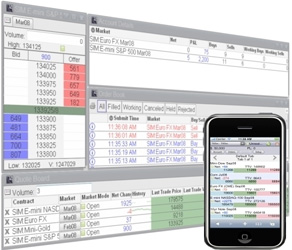 T4 Desktop is a professional front-end software trading platform that offers the professional trader the ability to trade with ease, satisfaction, and total flexibility. T4 Desktop was designed to include rich, easy-to-use front-end functionality, along with maximum speed, customization capabilities, and a back-end that offers the trader extreme reliability.
Flexibility and Functionality
T4 Desktop offers all the basic standard functionality any professional trader needs, along with many enhanced features. The system offers:
A fully customizable screen layout that allows you to modify fonts, colors, and columns with ease
Simplified order book and account views
Real-time quotes
Sierra Charts integration for real-time charting
Accessibility to all the available exchanges at no additional cost
Real-time Profit and Loss, and Position Updates
One-click order submission
Keyboard order submission
Multiple order books including a global order book which allows you to view the entire session's activity on one screen
An expansive list of order types, including Market Orders, Limits, Stops, Stop-Limits, Trailing Stops, MITs, GTCs, OCOs, and Auto OCOs
Advanced order types like market mode activation, time activation, and price activation
If the Position rollover feature is enabled then you will still see positions entered on previous days
To see additional features, or to learn more about T4 Desktop, view movie tutorials or read the user guide
Accessibility
With T4 Desktop, you can trade from anywhere. Whether you are at home, in your office, or on the road, when you trade with T4 Desktop, all you need is access to the internet and a computer and you are ready to trade. T4 Desktop can be hard-wired to your firm's network or can easily be used at home via your home internet connection.
Customization
Create your own customized functionality or your own black box system using T4's available open API.