Futures and Options Trading Platforms
J-Trader
J-Trader

More widely used than any other front-end..........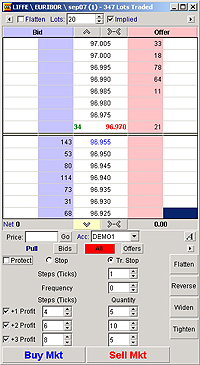 As a trader you need access to the world's leading derivatives exchanges including CBOT, CME, Eurex, Euronext.liffe and more. You need fast, straight-forward order entry and management with real-time quotes, positions and P&L, and you need the ability to trade Mini S&P, FTSE100 and all other major indices. J-Trader meets all of your needs.
A widely distributed and market-leading application, J-Trader is simple to deploy, easy to use, and provides all the functionality you would expect of a successful and versatile front-end. It is the ideal all-purpose trading tool.
J-Trader provides direct access to all the leading exchanges and includes the following benefits:
Multi-exchange, multi-market, real-time trading worldwide
Advanced functionality, such as multi-exchange spreading and one-click scalping
Customizable windows
Real-time profit and loss
Protection of orders with trailing stops and brackets
Real-time position update
Integrated advanced charting functionality with over 70 technical indicators, efficient backtesting and flexible representations including candlesticks, bar charts and Market Profile
Single and multiple account trading